CLICK ON THE LINKS BELOW TO VIEW MORE 5 STAR REVIEWS FROM OUR CLIENTS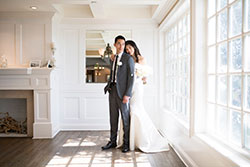 JENNIFER AND RYAN – MANHATTAN BEACH WEDDING PHOTOGRAPHY
We booked Kevin for our engagement shoot and wedding day photos because of his Yelp reviews and very reasonable prices. WORK ETHIC: Since you only (plan to) get married once, we originally thought about asking one of our photographer friends, thinking that a hired hand might treat our special day as just another day on the job. We quickly discovered that, with Kevin, there is no such thing as "just another day." He has to be one of the most passionate and hard-working people out there. Even after hours of shooting and you could tell that he was getting tired (I definitely was), you would find his eyes still scanning the horizon, looking for the next great backdrop. He probably took more photos of us on either day than I've taken selfies in the last ten years. At both the engagement shoot and wedding, we were the ones that had to tell him that it was okay to call it a day. At the same time, he was extremely flexible and never pushed us to keep going — he was just happy to if we were up for it. QUALITY: Kevin is a true artist. This worked out great because I am not. All we had to do was bring Kevin to our favorite places, and he was able to find the perfect angles to capture shots from. I am also not a model, so it was really helpful that Kevin and his team have a ton of experience and were able to tell us exactly how to stand, where to look, and why I should never use my sexy pose in photos, or anywhere for that matter. In the end, we ended up with more great quality shots than we expected (or will ever need).We'd definitely recommend Kevin as a skilled and passionate photographer, not to mention an all-around good guy!
---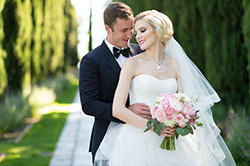 KASEY AND KIERAN – BEVERLY HILLS WEDDING PHOTOGRAPHY
My partner and I had interviewed several photographers prior to meeting Kevin. The other photographers would often bring a book of their "best shots." While the shots were often amazing, it only highlights that they have the ability to take some great photos without giving the customer an idea as to what the other photos would look like. Kevin was so different from other photographers; he brought with him books of entire weddings he shot. As we flipped through them we were amazed- every photo really is high quality and spectacular!
Kevin also has a very excitable yet humble personality that told us he would be an absolute joy to work with. When we did our engagement shoot with him, he spent time with us prior to shooting to teach us helpful poses to take a lot of the guess work out of the shoot. It enabled our shoot to go smoothly as he would call out a pose, and we would immediately know what he wanted from us! He is very vocal during shoots- giving description to his vision, and positive reinforcement. He has the ability to make you feel very confident and beautiful. Our engagement photos were the best photos we have of us as a couple, until Kevin shot our wedding. We recently got married in July 2016, and are beyond thrilled with the photos we have gotten so far in our sneak peak. Kevin showed up with his team on the day of the wedding and immediately got to work! They all worked together so well under Kevin's direction, so that it was an easy and stress-free process. Even when we were constrained by time, Kevin was easily able to work with the pressure to help us capture beautiful photos that we will treasure forever. I would absolutely recommend Kevin to anyone! He is an amazing photographer, and has demonstrated the utmost professionalism and high quality product in working with us. Thank you Kevin!
---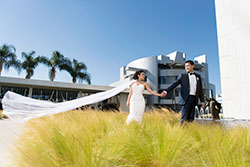 MINA AND JEFFREY – ORANGE COUNTY WEDDING PHOTOGRAPHY
When my wife and I were shopping for photographers, we heard from some people that Kevin was very cocky and that it turned them off. However, his work and portfolio was so good that we had to meet with him in person, and we are so glad that we did!! What I took away from that meeting was not that he was cocky but that was supremely confident in his abilities. That is EXACTLY what you want in a photographer who will be capturing the most precious moments of your life.
What drew us to Kevin was his mastery of lighting. All of his photos are very clear, vibrant, and lively even before any editing takes place. We were blown away by how beautiful his photos were. He knows how to put you in the best position, with the best background, with the best lighting in order to create the perfect photo. He also offers very competitive and attractive packages to choose from. After doing our research, we felt that his packages offered the most value.
Kevin takes his craft very seriously and cares for all of his clients. He had a family emergency 2 days before our wedding and everyone would have understood if he had to cancel to tend to his family. However, he still showed up early and did a phenomenal job on our wedding day. He and his assistants were very professional throughout the day and were very easy to work with. So much so that we didn't even know he had a family emergency until the very end of the night when he was about to leave for the hospital. He is very responsive and will update you every step of the way. He stays on top of his work and doesn't need you to constantly push him to complete his job. Overall, he provides amazing work and quality and is the best person to capture any of life's precious moments.
---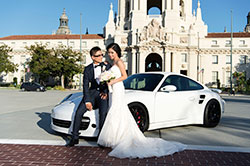 VINH AND HOAN – PASADENA WEDDING PHOTOGRAPHY
Kevin is a great choice for photography! Kevin demonstrates a great intuitive understandings of his craft, artistry, surroundings and subjects to synergistically snap the perfect angle for the best desired outcome! After the church and post church on-site photography sessions, he did messaged me a few shots to preview. I am excited to view the entirety of his post-production work. He recently did our wedding this Friday on very short notice. Literally, I called in three days before the big day. Without him, it would been a short marriage after the wifey finds out
Despite the short notice, he was able to work on our timeline, budget and a demanding monster-in-law with professionalism, punctuality and a clear creativity direction that inspires me to probably marry a second wife (shhh don't tell the first one, the ink has yet to dry…). Kevin, great job Sir!
---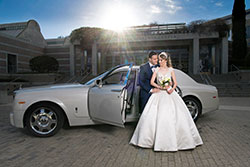 NOHEMI AND FRANCO – LOS ANGELES WEDDING PHOTOGRAPHY
After much research and thought my fiancé and hired Kevin for our wedding early next year. He was our favorite since the beginning and we are so glad we picked him! We had our engagement photo shoot last week and Kevin was an absolute delight to work with. He gives great direction and really makes you feel comfortable with the whole experience. He also showed us some shots during the photo shoot and they looked amazing, we can't wait to see them! I definitely recommend that you do an engagement photo session; it will really help prepare you for your wedding day pictures. Lastly, both my fiancé and I highly recommend Kevin not only for his exquisite photos and exceptional professional expertise but also for just being a genuinely nice and fun person.  We are very excited for our wedding day pics!
---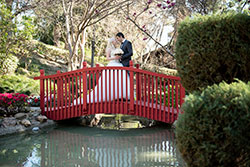 LARESSA AND ARASH – GLENDALE WEDDING PHOTOGRAPHY
Kevin and his team are simply AMAZING! I hired Kevin for my bridal shower, engagement pictures and wedding and he was hands down one of my favorite vendors to work with. First off, his pictures are just gorgeous. I loved all of them and I got so many compliments on all my pics. He has an excellent eye and he just captures these amazing background and lighting situations. I was in love when I first saw my engagement pictures. You can also tell he really takes pride in his work and cares about taking good pictures. Our photo sessions were always such a fun experience and he helped pick perfect locations for all our pictures. He's also a really great person to work with; very sweet and easy to get along with. He worked with me to accomodate everything we wanted for our wedding and he really made us feel special. The guest sign in book he made for our wedding was such nice quality, I couldn't bring myself to let people write in it. His work speaks for himself, you can just check out his website to see how nice the pictures are but overall would highly highly recommend Kevin. I know my husband and I would love to work with him again in the future.
---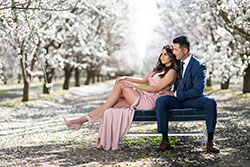 CAROLINA AND ROBERTO – LOS ANGELES ENGAGEMENT PHOTOGRAPHY
OMG … can i just say AMAZING!! My fiance and I booked Kevin a few months ago and got the middle package (totally worth it so far) Kevin recently took our engagement pictures and everything was perfection. He gave us direction and made the process fun for us, he was such a pleasure to work with and i will forever recommend him. I cannot wait to see the amazing memories he will capture on the day of our wedding 🙂 Thank you Kevin!!
---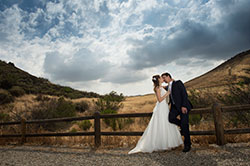 ELITA AND TONY – SANTA MONICA WEDDING PHOTOGRAPHY
Kevin is the best wedding photographer out there! My husband and I worked with Kevin on both for our engagement pictures and for our wedding day. On each occasion, Kevin and his assistants went above and beyond our expectations . Kevin is extremely talented and has an eye for seeing things that will make absolutely fantastic pictures. Kevin also has a wonderful personality and is able to make you feel completely calm and at ease. Both our engagement pictures and wedding pictures are absolutely phenomenal. We are so glad that we have such gorgeous pictures to remember the most important day of our lives. There is truly no price tag for the pictures that we have from Kevin. Kevin has been an absolute pleasure to work with. He is incredibly professional, timely, attentive, and accommodating. He understands how important a role he is playing and he takes it very seriously. It is also clear though that he truly loves what he does. There is no one that I would have rather had capturing our wedding day! I would absolutely without hesitation recommend Kevin to any couple!
---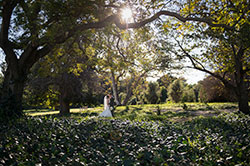 IVY & SEAN – SAN GABRIEL WEDDING PHOTOGRAPHY
THE BEST OF THE BEST! My husband and I have been doing much of an extensive research for an engagement and wedding photographer in the Greater Los Angeles Area for our wedding in December 2014. I have a passion for arts and do graphic designing myself so it was very difficult for us finding a photographer who's creative eye and editing skills that would meet my expectations.  Glad that my husband found Kevin's Photography Website, his talents and photography style really caught my attention because it was exactly what I wanted.  His beauty editing skills are AMAZING and our engagement and wedding photographs came out really great; exceeding beyond my expectations! He is truly creative and his work speaks for itself, you just have to see it. His services and level of professionalism is excellent and I am very happy we've booked with Kevin.
Our wedding album is so beautiful and elegant, THANK YOU KEVIN! Sean and I LOVE LOVE LOVE LOVE our wedding album! We can't image having anyone else photographing our special day, and we are SO HAPPY it was you! We wish you all the best and to always be your great self. You truly are an aspiring individual, thank you so much from the bottom of our hearts. I highly recommend Kevin for any couple/family that is looking for a photographer; you just have to check out his work!
---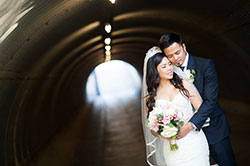 SHEENA AND RONALD – ORANGE WEDDING PHOTOGRAPHY
My wife and I were shopping around for decent photographers to take our engagement and wedding photos about a year ago.  We met a several potential photographers, but once we met Kevin and saw his portfolio, we both automatically agreed that he had to be our photographer.  We were amazed the with not only the quality of his shots but also the way he set and arranged his photographs in the each of the albums he had us look through.
During our engagement shoot, I found out about his background in graphic design, which definitely shows in the way he shoots and arranges his pictures. One thing I really like about Kevin's work is that he uses as much natural lighting as he can, which makes all the difference in the the world when it comes to photographs, in my opinion.  He also utilizes the environment/setting in unique but natural ways too.  He can basically turn a mundane setting into a work of art because he has an eye for what works and what doesn't. He is also very easy to work with because he knows how to direct to get the shots that work.  He responds back to email and/or texts rather briskly, and communicates any issues regarding scheduling.  Price wise, I believe he is fair.  I've met other photographers who charge a little more than he does but offer less in regards to packages and overall quality of work.  You get what pay for with Kevin, and what you get is just quality all around.  Our photos, especially the wedding photos, look better than I could've imagine, and he managed to capture what I cannot describe in words about our wedding day.  We have no regrets at all in choosing Kevin as our photographer. You won't either.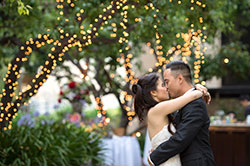 MIKE AND TAWNIE – FULLERTON WEDDING PHOTOGRAPHY
I've only had positive experiences working w/ Kevin and his team.  Kevin is professional, courteous, and I would recommend him to anyone.  His photos come out beautiful and the angles he selects are a work of art.  On top of his photography skill, he is also a great guy and is very keen on guiding and telling us the best way to pose and get the most magic out of each picture.  He also has a very quick turn-around and is very fast w/ responding when you ask him questions.
Kevin is also understanding when it comes to scheduling.  My wife and I opted to do our engagement shoot at the beach.  Unfortunately, the weather didn't agree w/ us, and it was high tide the day of our photo shoot!  The waves were ridiculously strong and were about 5 feet high!  The wave was so strong it knocked my wife's shoes off and into the water, while she was wearing them!!  As such, Kevin was very understanding, and opted to reschedule the photo shoot to another date & time.  This type of professionalism is very rare to find. He has 100% exceeded my expectations and I have zero regrets booking him.  Thank you Kevin for capturing me and my wife's special day.
---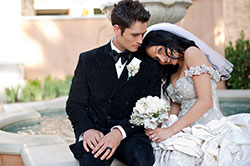 JANICE AND GABRIEL – LOS ANGELES WEDDING PHOTOGRAPHY
We hired Kevin to photograph our wedding and the results were astounding. Our pictures and wedding album are constantly complimented! People love the quality of the album and the elegance of the photos. Kevin is very professional and is truly talented. Not only is he a photographer, but he is also a graphic designer. So, the Pictures in the final album look professionally placed. He is worth every penny and I would highly recommend him to anyone!